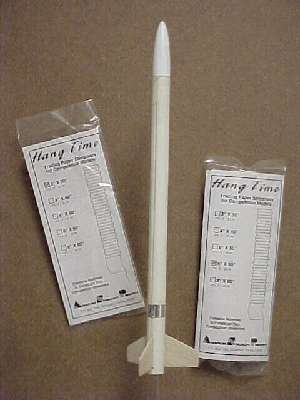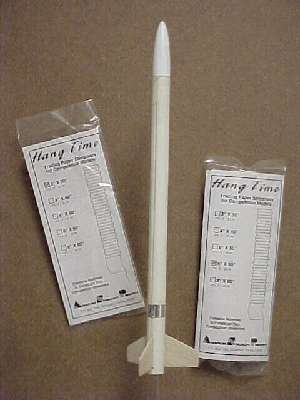 18mm "Hang Time" Streamer Duration Kit
This kit features balsa nose cone, quality spiral-wound body tube, shock cord made of DuPont KEVLAR® & thin wood fins. Each of the Streamer Duration kits include our "Hang Time" Tracing Paper Streamer Kits with enough materials to construct two streamers. The streamer size included with each kit is a good all - around size for the model size, but you may want to use a larger or smaller size depending on flying conditions. Be sure to check out other sizes of
tracing paper streamers
and the
Silver Dura-Lar streamers
for more options!
Specifications:
Length: 13.75"/34.9 cm
Diameter: .736"/18.7 mm
Approx. Weight (w/out recovery device): 0.51 oz/14.5 gm
Recommended Engines: 1/2A6 - 2; A8 - 3; A6 - 4; B6 - 6; C6 - 7
Skill Level: Beginner
Recovery Device: Streamer (6" X 60" Tracing Paper)
What you'll need to build this rocket:
Adhesives – a thin or medium viscosity cyanoacrylate ("CA") glue can be used for most steps and is recommended (other adhesives, such as wood glue, [i.e., Elmer's Carpenters Glue or Titebond] or epoxy can be used if you prefer and are familiar with their use, but the use of a CA glue will provide the lightest weight model); hobby knife with a sharp #11 blade; straight edge (preferably metal); sandpaper (medium - 220 or 280, fine - 320 or 400, & [optionally] extra fine - 500 or 600); ball point pen or pencil.
Recommended, but not required: sanding block; extender tip for cyanoacrylate glue.
Optional (see instructions): accelerator for cyanoacrylate glue; sanding sealer (or balsa fillercoat); thinner (appropriate type for the sanding sealer); clear dope; dope thinner; small paint brush; paint.
What else you'll need to fly this rocket:
Engines (see list above); Recovery Wadding; Electronic Launch System and Launch Pad