D22-7W Q-Jet Model Rocket Engine
New single-use Q-Jet™ composite model rocket engines. Comes in a 2-pack and includes igniters and recovery wadding. 24mm size designed to fit a standard T-50 size tube/engine mount (same size as standard Estes D12 engines).
Specifications:
Diameter: 0.938" (24mm)
Length: 2.75" (70mm)
Propellant: White Lightning (W)
Total Impulse: 19.3 N-sec
Burn Time: .9 sec
Average Thrust: 22 N
Peak Thrust: 27.6 N
Delay Time: 7 seconds
Propellant Weight: 12 g (.42 oz.)
Loaded Weight: 37.5 g (1.32 oz.)
Maximum Liftoff Weight: 284 g (10 oz)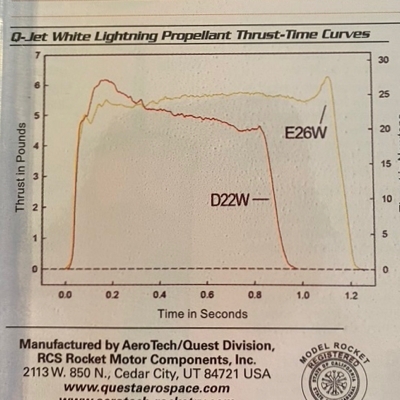 Note: we can only ship this item by ground to the Continental US.

A few states have age restrictions to purchase model rocket engines, click here for more info.