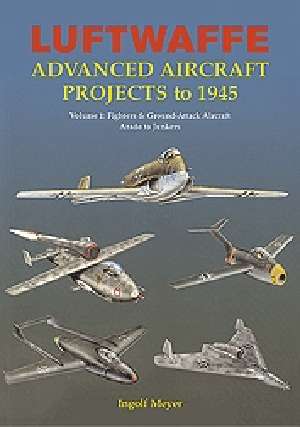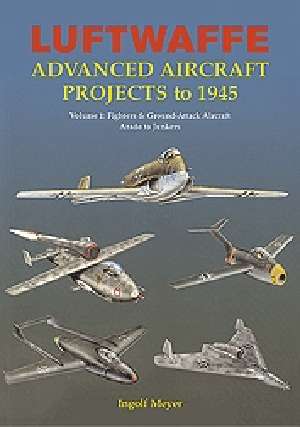 Luftwaffe Advanced Aircraft Projects To 1945 Vol. 1: Fighters & Ground Attack Aircraft
Luftwaffe Advanced Aircraft Projects To 1945 Vol. 1: Fighters & Ground Attack Aircraft
by Ingolf Meyer

Among Midlands most successful aviation books have been the three Luftwaffe Secret Projects titles. Ingolf Meyer, the artist who worked on Luftwaffe Secret Projects Volume 1 Fighters 1939-1945 has, since the publication of that book, continued his research into German experimental aircraft in the era of the Third Reich. He has unearthed a remarkable range of further secret projects and experimental aircraft which did not appear in the earlier volumes. This huge archive of research will now be published in an estimated four volumes over the next few years, starting with this book.

This work covers fighters, night-fighters and attack aircraft, alphabetically by manufacturer. This first volume will cover aircraft, projects and designs produced by manufacturers from Arado through Junkers, while the second volume will cover those from the manufacturers Lippisch to Zeppelin.

Over the course of this new series, approximately 40 percent of the aircraft discussed and illustrated will not have appeared in the original series. In order to address the many new aircraft featured in these books, their style will be markedly different from the earlier volumes. They will contain more illustrations and less text. Normally one aircraft will be covered on each page. For many, it was the illustrations which made such an impact when Luftwaffe Secret Projects was first published. Increasing the number of illustrations in the new series will only enhance the appeal of these books.

9 x 12", 192 pages, Hardbound, Approximately 175 color illustrations

One copy only!