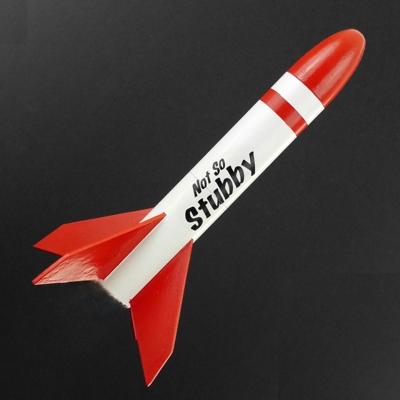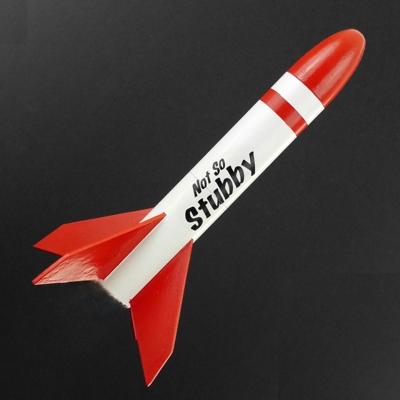 Not So Stubby Model Rocket Kit
Bigger brother of the Stubby - fun, easy to build model! Ideal for flying on any size field! Makes a great first or second rocket kit! Designed with the beginner in mind, but it's also a great sport flier for the more experienced modeler.
Features laser-cut balsa fins and balsa nose cone, quick change engine hook and bright parachute recovery. Designed to fly on easy to find 18 mm A, B or C engines.

Specifications:

Length: 11.5"/29.2 cm
Diameter: 1.637"/41.58 mm
Weight: 1.875 oz/53 gm
Parachute Recovery
Skill Level: Beginner
Recommended Engines: A8-3; B6-4; C6-5

What you'll need to build this model:

Required: Adhesive (A wood glue, such as Elmer's Carpenters Glue or Titebond can be used for all steps and is recommended); sandpaper (medium - 220 or 280 grit); pencil or ball point pen; scissors; cotton swab ("Q-Tip", or piece of scrap balsa wood); hobby knife; tape (cellophane or masking).
Optional: sandpaper (fine - 320 or 400 grit, extra fine - 500 or 600 grit); filler material (such as Elmer's Fill & Finish, Elmer's Professional Carpenter's Wood Filler or interior spackling paste); sanding sealer (or balsa fillercoat); thinner (appropriate type for the sanding sealer); small paint brush; paint (Spray paint, such as Krylon, Pactra or Testors is recommended. Be sure not to mix different types or brands of paint without testing.) - primer; colors as desired & clear; sanding block; tack cloth.

Check out our "Basic Building" Combos if you need a lot of the items above at a discounted price!

What you'll need to fly this model:

Electronic launch system; launch pad with 1/8" launch rod; recovery wadding; engines (see list of recommended engines above).