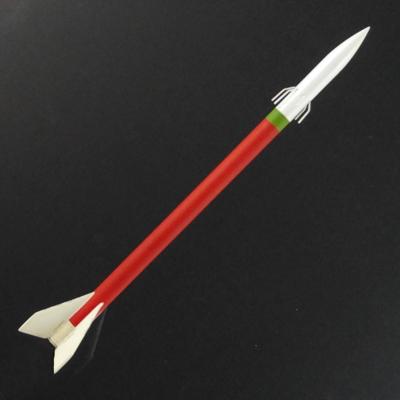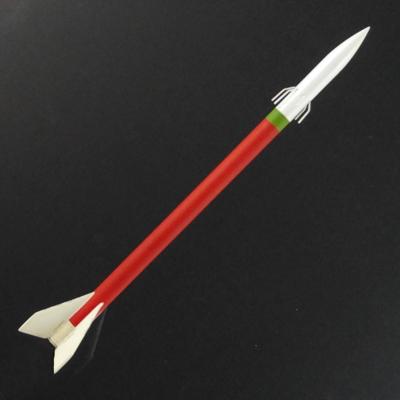 Sandia Sandhawk Model Rocket Kit (13mm Version)
The Sandia Sandhawk was developed as an upper stage for sounding rocket systems. The Sandhawk flew three times as a single stage rocket between 1966 and 1974.

Our most popular "Peanut Scale" model features laser-cut basswood fins, balsa nose cone, wire antennas & decals. This great looking minimum-diameter model flies on mini A engines.

Specifications:

Length: 12.34"/31.34 cm
Diameter: .541"/13.74 mm
Weight: 0.6 oz/17 gm
Streamer Recovery
Scale: approx. 1/24 (0.042)
Skill Level: Beginner/Intermediate
Recommended Engines: 1/4A3-3T; 1/2A3 - 2T; 1/2A3 - 4T; A3 - 4T

What you'll need to build this model:

Adhesive (A wood glue, such as Elmer's Carpenters Glue or Titebond can be used for most steps and is recommended. Epoxy is needed for one step, Cyanoacrylate or epoxy may be used throughout if you are familiar with their use); hobby knife with a sharp #11 blade; straight edge (preferably metal); scissors; pliers (needle nose preferred); masking tape; scotch tape; sanding sealer (or balsa fillercoat); thinner (appropriate type for the sanding sealer); small paint brush; paint (Spray paint, such as Krylon or Testors is recommended. Be sure not to mix different types or brands of paint without testing. ) - primer (optional), flat white, gloss white, steel (note: silver may be used in place of the steel), flat red, metallic green & clear (flat and/or gloss, optional); sandpaper (medium - 220 or 280, fine - 320 or 400, & [optionally] extra fine - 500 or 600); ball point pen; pencil; small straight pin.
Recommended, but not required: sanding block; tack cloth.
Optional: 3/64" gray trim tape; 3/64" black trim tape; material to fill body tube seams such as Elmer's Fill & Finish, Elmer's Professional Carpenter's Wood Filler or interior spackling paste.

What else you'll need to fly this model:

Electronic launch system; launch pad with 1/8" launch rod; recovery wadding; engines (see list of recommended engines above).