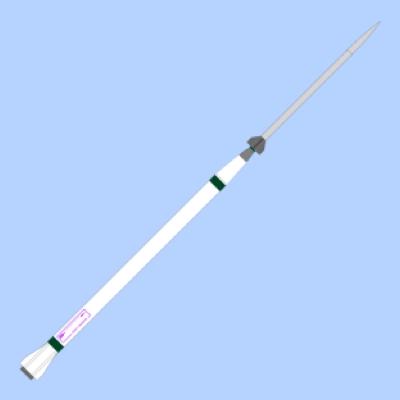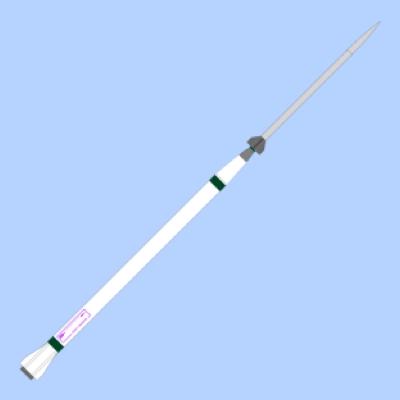 Super Loki-Dart Model Rocket Kit
The Super Loki - Dart is one of NASAs' workhorses for lofting small payloads. Radar chaff, inflatable spheres and radiosonde payloads for meteorological data are some of the payloads sent aloft by this vehicle.

This scale model is both fun and challenging to build. Includes a full decal set. Also features laser-cut basswood fins, quick-change engine hook and complete instructions!
At 3 1/2 feet tall, this is an impressive model that always attracts attention. This kit has placed in both regional and national competitions!

Specifications:

Length: 42.5"/108 cm
Diameter: 1.325"/33.7 mm
Weight: 5 oz/142 gm
18" Parachute Recovery
Scale: approx. 1/3 (0.33)
Skill Level: Intermediate/Advanced
Requires 3/16" Launch Rod
Center of Pressure:30.4" from tip of nose
Recommended Engines: C11-3; D12-5; E20-7; E30-7; F44-8

What you'll need to build this model:

The following will be required to complete your model: Adhesives (A wood glue, such as Elmer's Carpenters Glue or Titebond can be used for most of the assembly and is recommended. Epoxy is needed for some steps - quick setting/5 minute is fine); Thin Cyanoacrylate ["CA"] is recommended for some steps, but is not required); hobby knife with a sharp #11 blade; straight edge (preferably metal); scissors; masking tape; sanding sealer (or balsa fillercoat); thinner (appropriate type for the sanding sealer); small paint brush; paint (Spray paint, such as Krylon or Testors is recommended. Be sure not to mix different types or brands of paint without testing.) - primer (optional), flat white, light grey, aluminum (or silver) & flat clear (optional); sandpaper (medium - 220 or 280, fine - 320 or 400, & [optionally] extra fine - 500 or 600); ball point pen; pencil; felt-tip marker.
Recommended, but not required: Sanding Block; Tack Cloth.
Optional: Material to fill body tube seams and/or any imperfections in wood parts, such as Elmer's Carpenters Wood Filler, Interior Spackling Paste, etc.; decal setting or solvent solution (such as Solv-A-Set or Super Set).

What else you'll need to fly this model:

Electronic launch system; launch pad with 3/16" launch rod; recovery wadding; engines (see list of recommended engines above).

"Just built the ASP Super Loki Dart and it is awesome. Thank you for making the kit." - John T.