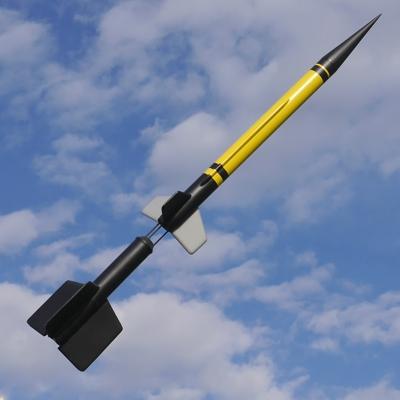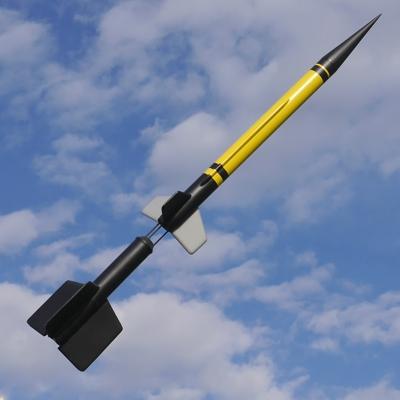 WAC Corporal with Tiny Tim Booster Model Rocket Kit (Two Stage 24mm to 18mm Version)
The WAC Corporal was the United States first sounding rocket. Seventeen WAC and WAC B rockets were flown from 1945 to 1947. The WAC was launched with the aid of the Tiny Tim solid propellant booster. After the booster burned out, it fell away and the liquid fuel propelled sustainer stage continued its' upward flight.

Another one of our most popular kits! This detailed model features a balsa boattail, hard balsa nose cone and laser-cut balsa fins. Using the "Pass - Port" staging method, a D12-0 booster fires an 18mm upper stage engine for impressive flights! The upper stage may also be flown as a single stage model. Recommended for the advanced modeler.

2-Stage Specifications:

Length: 32"/81.3 cm
Diameter: 1.326"/33.7 mm
Weight: 5.11 oz/145 gm
Parachute & Tumble Recovery
Scale: approx. 1/9 (0.11)
Skill Level: Advanced
Requires 3/16" Launch Rod
Recommended Booster Engines: C11-0; D12-0; (with Engine Adapter EA 18/24, not included): C6-0
Recommended Upper Stage Engines: A6-4; A8-5; B4-4; B6-4; B6-6; C6-5; C6-7

Single Stage Specifications:

Length: 21.75"/55.25 cm
Diameter: 1.326"/33.7 mm
Weight: 2.75 oz/78 gm
Parachute Recovery
Requires 3/16" Launch Rod
Recommended Engines: B4-2; B4-4; B6-4; C6-5

What you'll need to build this model:

Adhesives (thin Cyanoacrylate (CA) is recommend for some steps - for the rest of the model CA, Wood Glue, such as Elmer's Carpenters Glue or Titebond, or Epoxy may be used. We recommend you read "Some Notes on Adhesives".); wax paper; hobby knife with a sharp #11 blade; ruler; scissors; masking tape; sanding sealer (or balsa fillercoat); thinner (appropriate type for the sanding sealer); small paint brush; paint (Spray paint, such as Krylon or Testors is recommended. Be sure not to mix different types or brands of paint without testing.) - primer (optional), white and/or yellow, black, silver & clear (optional); sandpaper (medium - 220 or 280, fine - 320 or 400, & [optionally] extra fine - 500 or 600); ball point or felt tip pen; pencil.
Recommended, but not required: sanding block; tack cloth.
Optional: material to fill body tube seams such as Elmer's Fill & Finish, Elmer's Professional Carpenter's Wood Filler or interior spackling paste.

What else you'll need to fly this model:

Electronic launch system; launch pad with 3/16" launch rod; recovery wadding; engines (see list of recommended engines above).